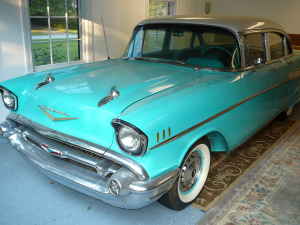 1957 Chevrolet Belair 4 door V-8 fully restored - $21500
Wilmington, NC • 08/22/2007
This rare find is an amazing car, it belonged to my Dad who restored it in 1997, it has been garage kept ever since, and has been in the rain only once!

The car has only 170 miles on it since the COMPLETE restoration to all original specs with only New old stock parts.

It is a 4 door post, 283cid V-8 with Carter 4 barrell carbeurator (original to the car)This is an "All Numbers match" car, all the way down to the paint codes and interior codes.

It has Electric wipers, original jack and spare still in place, radio, clock,fender skirts, and dash trim.

The Engine, and transmission were both professionally rebuilt during restoration.

The only thing left to do on this car is to rechrome the front and rear Bumper to make it a "perfect" car,( the bumpers were fine when the restoration was done, but have some pitting showing up now).

Please feel free to call with any questions!

910-619-2606 or e-mail at dslfrk@aol.com

This price is negotiable.

Posted by: OhSoHandy User
Located: Wilmington, NC
(No map found for this address)